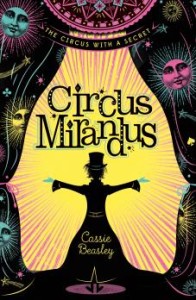 I've been Anglicized! And though that might sound dangerous, it's actually a very good thing.
Having your first book published is filled with so many unexpected, cool moments, and this was definitely one of them. Last week, I received an e-mail from my lovely UK publisher, Chicken House, with a spreadsheet that included all the words that will be changed for the UK edition of Circus Mirandus. (How scrumptious is that cover by the way?)
Some of the changes were expected. "Asphalt" became "tarmac," for example, and Micah will be wearing "pyjamas" instead of "pajamas." But there were also some neat alterations I didn't know to anticipate. In England, the characters will be eating Maltesers and drinking orangeade. And Big Jean, the world's most intelligent elephant, will be using a board rubber instead of a giant eraser.
I think these little differences are so fascinating, and I can't wait to see what they look like in the finished book.
Speaking of which, I haven't found many places online to pre-order the English version, but I know it's available from Amazon UK. And if you happen to be interested in that edition, you won't have to wait too long! It will be out a day or two after Circus Mirandus is released in the US.